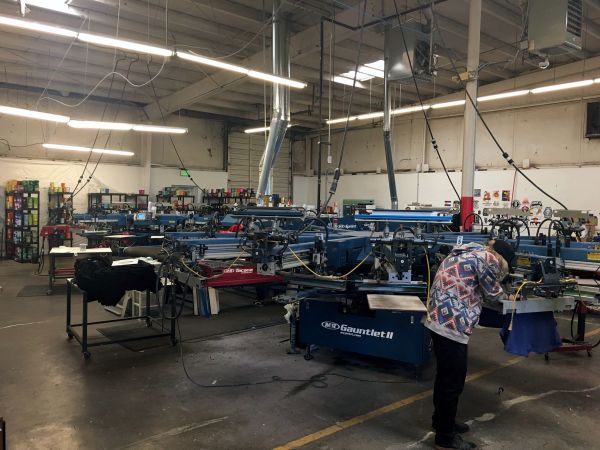 Screen Print is a common method for decorating T-Shirts and is best for larger quantities above 35 pieces to keep the price down.  Price is based on quantity, how many colors in the design.  This is a labor-intensive process where the higher the quantity, the lower the cost is to decorate the shirt.  Each color adds to the cost as well and we can do up to 12 colors.  Combined with the years of expertise in the shop, the automated screen presses you see to the left make it possible to get consistent, high quality results for every job.  We use the common plastisol inks and also waterbased discharge ink for a softer feel better airflow through the image.
Due to high volume, please allow 10 - 14 days from the time your artwork is approved as Print Ready and the apparel has been received and checked in.
We do not print customer supplied apparel.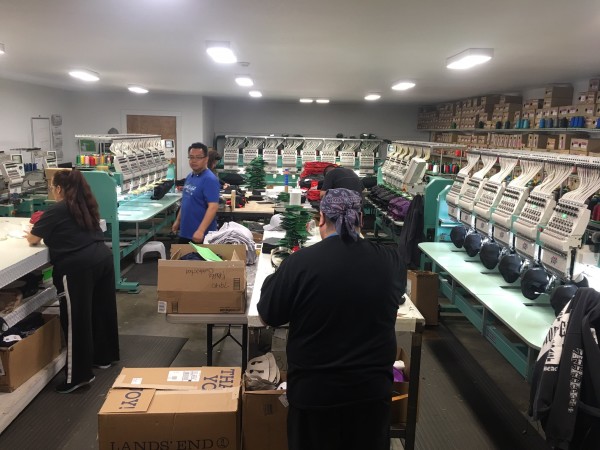 Embroidery is one of the most popular decorating methods for putting logos on the left chest for brand recognition that shows quality and success.  

The embroidery department (at right) is staffed with people who have several years of experience who pride themselves on high quality results. Every project is different and has to be considered when planning what types of thread to use, depending on design, material that is getting embroidered and color.


Due to high volume, please allow 10 - 14 days from the time your artwork is approved as Print Ready and the apparel has been received and checked in.

We do not embroider customer supplied apparel.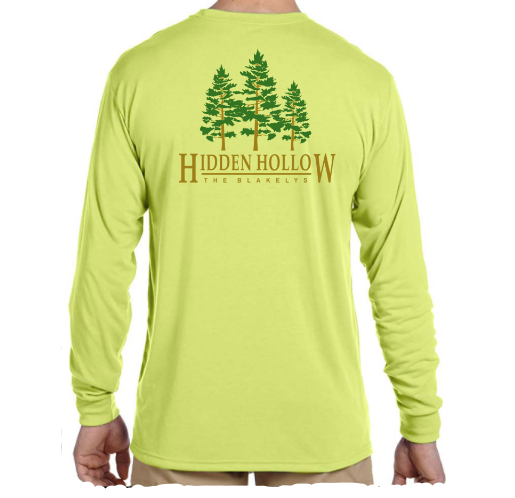 Small Quantity - No Problem
If you don't need very many shirts, or even if you need just one, we can use one of the following methods.
DTG - Direct to Garment full color.  This method requires the material to be 100% cotton.  The image is applied to the material with a DTG printer and there are no setup costs so it is one of the few econimical ways of getting just a few shirts done.
Dye Sublimation - This method is the same used on the bright colored bicycle jerseys.  100% polyester is required as the specialized ink is heated to a high temperature turning into a gas and permeates the fibers of the material resulting in sharp, brilliant colors that will not fade.  This is the best options for sports activities that will wick away moisture and dries fast if wet.  We sell Vapor Apparel that is created specifically for this decoration process.  The Basic line feels so soft due to the 100% spun polyester that looks and feels like really soft cotton.  We also sell a Solar Line from the same brand that features up to +50 UPF protection that is popular for high activity and sports.
ThermoFlex - We can also cut numbers and names for our wide selection of sports jerseys and heat press them onto our wide selection of sports jerseys material which look great and washes well for getting the uniforms ready for the next game.
Heat Press and Bling Designs - If you just want a creative design for your shirts, take a look at our catalog of designs from high quality heat press designs and Bling too.  Just be sure to record the name of the design and the item number for the design that you like so we make sure we get the right one as there are quite a few to choose from.  Search on just about any term and chances are it will come up.